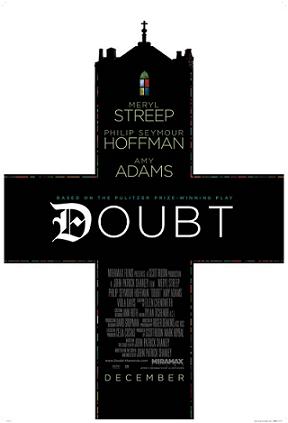 Meryl Streep and Philip Seymour Hoffman?  Based on a play?  About molestation in the church?  Wow!  Sounds like it's in the proverbial pretentious art house bag!  Add in the doe-eyed Amy Adams as a nun and you're golden.
Yes, all this and more got me in the door to what doesn't exactly appear to be a very *exciting* film.  Cast list and Oscar-season aside, Doubt was far from spectacular and I would even go so far as to call it mediocre.
Hoffman is Father Brendan Flynn, a liberal and jovial priest who is new to his parish in Queens in the 1960s.  Streep is a hardened and humorless Sister Aloysius Beauvier who has not taken kindly to his arrival at the church and the adjacent school, which she runs.  Tension between the pair builds and Sister Aloysius makes sure to warn the other nuns, including the gentle and suspiciously pretty Sister James (Adams) to watch out for him.  Soon, Sister Aloysius suspects that Father Flynn has engaged in an inappropriate relationship with a young African-American boy who has had trouble fitting in at the homogenious school.  There is much accusation and gnashing of teeth, but it is never made clear to anyone if anything improper has actually taken place, or if Father Flynn has merely become a victim of Sister Aloysius's fickle tastes.
I can see how this story would be appealing: intrigue, Catholic molestation charges and two contemporary thespianic giants squaring off, but I think that Doubt fell prey to the same problems that plague so many stage-to-screen adaptations: it's a small intimate story that is very difficult to translate into the kind of big spectacle that the big screen needs.  Despite the dramatic prowess of the two leads, the characters came off as hollow caricatures.  Hoffman was sympathetic and nuanced, but in the end, I just didn't care what happened to him.  Likewise, Streep was vicious and conniving, but when was the last time we met a nun we liked?  Adams, who is not usually my favorite, shone strongy against this pair, naive, innocent and a beacon of goodness in a large hat.
It is possible that a more adept director could have coerced something more compelling and intricate out of the simple story that John Patrick Shanley put on the page, but more than that I don't necessarily think this is a story for the screen.  It dragged on too long, past the point of caring, no matter how much spittle and sweat flew from Phillip Seymour Hoffman's brow.  So when Hoffman got angry at a recent press junket because he was asked to reveal if he thought Father Flynn did, in fact molest the boy, was it because of artistic integrity?  Or was he just being defensive?
One Response to "Doubt"