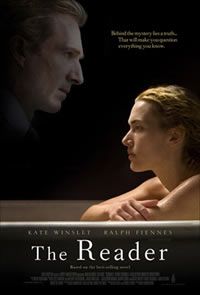 Is it fair that a movie with a 15 year old girl taking an older lover that spent a good 15% of its runtime with the pair romping around in bed would have been chastised for such lewd portrayal of an inappropriate romance whereas The Reader is garnering critical praise across the globe because the 15 year old is a boy and his lover is a woman?  Well, not really I guess.  But, that's not entirely relevant since that's not the movie that got made.
Instead, The Reader tells the story of a Michael Berg (the young, German David Kross) who, when he falls ill on his way home from school, is cared for by the stern but kind Hanna Schmitz (Kate Winslet).  Over the course of months, the pair develop an intimate relationship that is immediately sexual but also sweetly intimate.  Of course, it is forced to end and Michael grows up with Hanna as a dear memory.  When he encounters her later, as a law student, he is forced to face the fact that just because he has fond memories of her, he really knew very little of this complex older woman.
The first half of the film, with scene after scene of sensual intimacy is provocative and compelling.  As Michael, Kross naivete is charming while his attractive qualities – a youthful smoothness in both his physicality and his mannerisms.  He is unapologetically enthusiastic about his affections for Hanna.  In her part, Winslet is cautious, but obviously taken in by Michael's charms.  Stern and sometimes unyielding, but ultimately genunie in her feelings for him.
The second  half of the film was something I didn't expect, to the point that I won't give away Hanna's secret.  Suffice to say, an older Michael is played by Ralph Fiennes (his resemblance to David Kross is passing at best), while Winslet it aged (not so masterfully) with makeup effects.  The story reinforces the true nature of their relationship and is touching, if not happy.
The Reader explores interesting themes of post-World War II Germany in a way that hasn't been tested before and this alone makes it compelling.  These underlying notions in conjunction with strong performances and delicate direction make for one of the better films to come out of the 2008 Oscar season.