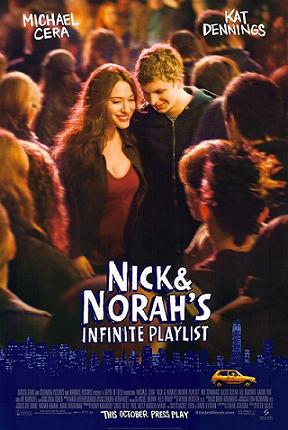 Michael Cera plays a lovably baffled and recently heartbroken indie rock aficionado who, along with band of merry very gay boys meets Kat Dennings while on an unsupervised jaunt to Manhattan to track down their favorite band, "Where's Fluffy?" They fall in love while trying to find her drunk friend (a charming and adorable  Ari Graynor) who ran off.
They fall in love and he gives her  her first orgasm on a couch.
WTF?
Ok, but at the very least, surely this shockingly blunt,  poorly acted, practically humorless teenage rom/com had some lessons thrown in there somewhere.  Let's have a look.
Lessons Learned
It is A-OK to get completely shitfaced in NYC, barf in the Port Authority bathroom, and make out with strangers.  As a matter of fact, it is completely necessary if you want your best friend to fall in love.
It is A-OK to just drive away while your slutty ex-girlfriend does a striptease for you by the East River, leaving her stranded.
It is unacceptable to not have had an orgasm by the age of 17 if you are a female.  Everyone will know about it and publicly (pubicly?) shame you.
It is really easy to get cameos from John Cho, Andy Samberg, Seth Myers, Devendra Banhart and Bishop Allen for your movie no matter how much it sucks.  Filmmakers take note.
"Finger bang" is the unanimously preferred parlance for what Michael Cera does to Kat Dennings at the end.
Teenagers today have no parents.
7 Responses to "Nick & Norah's Infinite Playlist"