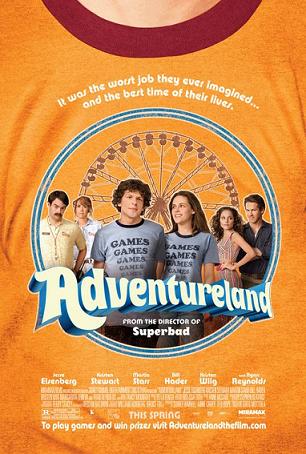 I liked Jesse Eisenberg when I first saw him in Roger Dodger all those years ago — his pent up sexual energy oozing out among cougar sexpots Jennifer Beals and Elizabeth Berkeley.  I loved him in The Squid and the Whale – his arrogance hiding his pain and confusion, and still more pent up sexual energy.  Though he seems to have bulked up a little bit he doesn't seem to have aged a day in the last 5 years and not surprisignly, I liked him in Adventureland, a quirky, romantic, angsty "quarterlife" drama that is at times riotously funny in its wacky antics and at times almost tragic in its realism.  Oh, and there is plenty of pent up sexual energy.
Eisenberg plays James Brennan who comes home to live with his parents after he graduates from Oberlin.  With a liberal arts degree (hey, I've got one of those!) he find himself either under or overqualified for anything that might resemble gainful employment and ends up getting a job at the local eponymous carnival.  Rather than zany, the cast of characters James encounters at Adventureland are for the most part morose and malcontent.  He quickly befriends his coworker, Joel (Martin Starr) who has a degree in Russian literature and develops an immediate crush on Em (Kristin Stewart), a beautiful, sharp and troubled NYU student who took a job at the carnival to escape a tumultuous home life. 
Upon reflection, these characters are easy to peg, but the way the story develops wasn't what I expected and I found it moving in a way that the vast majority of movies, whether they are meant to target me as a demographic, are not.  The summer progresses typically, the carnys (sp?) falling in and out of love, drinking excessively, smoking a lot of marijuana and generally just trying to figure out life.  Oh god, I think I have been pandered to.
SNL's Bill Hader and Kristen Wiig are hilarious as the couple that runs the carnival.  Their straightfaced enthusiasm and confusion is priceless.  Martin Starr, who was unknown to me before, was also notable in his performance as the geeky but sweet friend and Matt Bush as the asshole friend leftover from grade school was iconically funny.  If this movie were to see the same kind of success as something like Napoleon Dynamite (I'm sure it won't, though I would be shocked to learn the comparison wasn't tossed around at any point) then it would be Bush's ball punching, sweatband wearing Tommy Frigo that people would undoubtedly latch on to.
I was planning on including a paragraph here about how the female characters were all somewhat detestable, but that really wasn't the case, I think I just want it to be.  Actually, Em is probably the most complex character in the film and even though she does make poor choices and behave irrationally at moments, that is easily attributable to the fact that she is human, not that she is a woman.  This can often be a problem with feminist theorizing: it can backfire and have you (me) end up demonizing women instead of…you know, not doing that which is the whole point.
There were points where I felt like Adventureland was trying a little too hard and the peripheral characters were a little cliche, from Ryan Reynolds' philandering maintenance man to Lisa P, the super-hot chick who is also super-Christian but there was something truthful and flawed about the way that James and Em negotiate their summer and each other that is touching and sweet.   The poster and the trailer are very misleading — this isn't a zany summer stoner comedy, though there are moments of that.  It's much more angsty and dark than that, but that's a good thing.
8 Responses to "Adventureland"