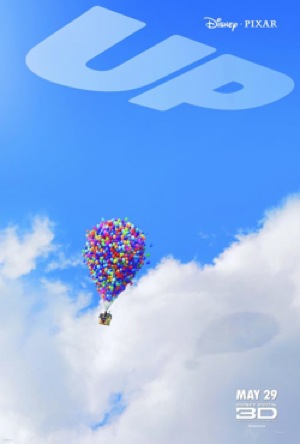 I was just lamenting the other day that I really don't get to do enough drunk blogging anymore because I don't really have the internet at my house.  But really that just stops me from drunk *posting* not drunk blogging.  So, the original intent of the Drunk Reviews tag was to both watch and review the movie while I was drunk I am going to make an exception tonight.  Because I am drunk and I already have 3 movies that I watched and need to blog about.  So at least one of them will be a drunk blog.  Holy shit that was wayyyy too much explanation.
On Sunday I was supposed to see that movie about Nazi zombies (does anyone else have trouble reaching the "z" on the keyboard?  It's very uncomfortable) but instead I saw Up.  I really don't like the title of this movie.  I want it to have an exclamation point or, something.  Another word, I guess.  The Fantastic Adventures of a Clinically Depressed Elderly Man and a Racially Ambiguous Child who Lacks a Father Figure might be good.  A little wordy, though.
I wasn't head over heels for Up, but it is recognizably well done.  The animation specifically is very impressive.  Sure, the story (is it an allegory?  I'm going to have to google that) is charming in a Pixar-y way.  It's impossible not to cheer on the protagonists, Carl and Russel, who are both adorable and earnest in their own ways.  The thing about the absent father I feel like has been Done to Death.  Sure it's a problem that plagues America (I don't even know if this is true, but I'm sure it must suck when this happens) but you can bet your sweet ass (WTF, why did I just say that?) that someone would have been up in arms if the kid (Russell) with an absent father had been African-American.  I mean, right?  Because then it would have been saying something about the irresponsibility of black men towards their children like that one time that Bill Cosby told black people to stop spending their money on sneakers.  Did my blog just suddenly get controversial?  Anyway, that just kind of annoyed me.  The missing dad part, not black people.  I actually don't remember seeing any black characters in this movie, except at the very end.
What I did like was the really dumb talking Golden Retriever named Doug.  He was funny, even if his schtick got a little old.  I used to have a Golden Retriever.  She was really sweet but dumber than a brick.  Poor Claudia.
I was also kind of offput by how much littering happened in this movie, especially considering that WALL-E, Pixar's last offering, was basically 90 minutes of "Don't Litter" propaganda.  Russell and Carl go to the remote jungle, the whole point of it being that it is remote and secluded and "a land lost to time" and they just leave all kinds of shit everywhere.  They unload a whole house full of furniture right there on the jungle floor, they release all kinds of balloons into the atmosphere (also, come on guys, BALLOONS CAN'T LIFT A HOUSE!) and eventually (SPOILER!) they just leave a whole fucking house!  Right there at the top of a waterfall!  Maybe most kids aren't going to take away any messages about littering in the rainforest from this movie, but it just seemed kind of weird to me.  Yes, this is actually something I thought about while watching Up.  No, I am not a dirty hippy.  It's just weird, right?
8 Responses to "Drunk Reviews: Up"