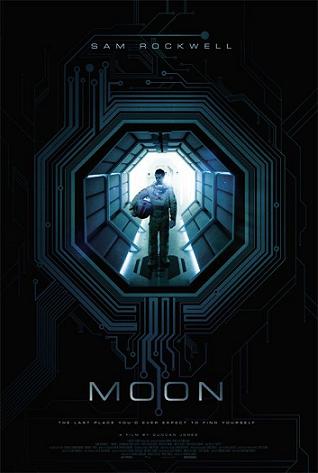 Raise your hand if you kind of have a big ol' crush on Sam Rockwell!  Me!  Me!  I do!  Looking back over his filmography it was probably the underrated Matchstick Men where I first really saw him and it was definitely last year's Choke that sent me over the edge to full-fleged crush status.  He was even a charming relief in the mostly mediocre Frost/Nixon.  He manages to convey an attitude that straddles a line between self-deprecating and entierly arrogant.  He frequently seems tired and overwhelmed, like it's just been so much work getting to where he is that maybe he needs to sit down for a minute.  He's always  little bit dirty.  And his new vehicle Moon let me in on another secret: he has a hot ass.  I'm not one of those girls that's always like "Ooh, look at that guy's ass!"  For the most part, I could give a shit.  But I'll be damned if his ass didn't look really good in those space jumpsuits.
All of this is to say that if you swoon at the sight of quirky indie bad boy Sam Rockwell like I do, you will probably find Moon to be wholly watchable.  If you are ambivalent or hold any negative feelings towards him, well, you might not.
The year is…sometime in the not so distant future.  Sam Bell (Rockwell) is working alone on the Moon, seemingly mining resources for use as energy back on earth.  He spends his days in the station with no companionship besides intermittent video messages from the company for whom he works and his wife and daughter and a space computer voiced by Kevin Spacey.  As the film begins he is nearing the end of his 3 year contract and preparing to return home to earth.  Unfortunately, something goes awry and when he returns to the ship after crashing his moon-mobile (I'm certain there is a more technical term for this) he finds himself face to face with a hotter, meaner, better groomed version of himself.  At first it's impossible to tell if this is real or if so much time alone in space with KevinSpaceyComputer has caused him to go insane.  We quickly realize that the former is true and the two Sam Bell's have to both figure out why there are two of them and how they will get back to earth unharmed.
The premise of Moon treads familiar science fiction ground and while it is an intrinsically interesting idea, something is missing in its execution.  The pacing of the film is uneven: it's slow to get started then throws a lot of information at you, rapid fire.  Combined with direction that is passable at best and characterization that never goes quite as deep as I wanted it to left Moon without the stakes that it needed to be a really good movie.  By the end, I was still interested but the amount that I actually cared about the outcome was slim to none.  It also suffered from overscoring which is admittedly a pet peeve of mine but makes it that much easier to dismiss dramatic events with a frustrated eye-roll. 
I enjoyed watching Moon, but it's the kind of movie that you're not going to keep thinking about when it's over…unless you see it on Netflix and wonder "why wasn't that movie better"*
*or, "Sam Rockwell has a hot ass"
6 Responses to "Moon"