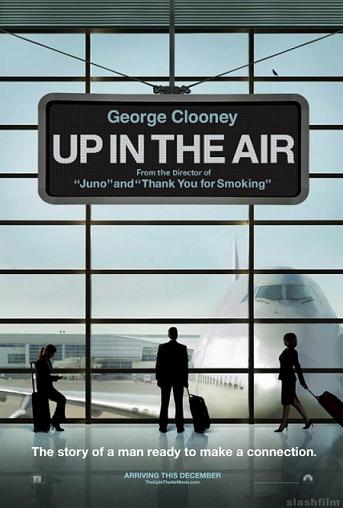 Ryan Bingham (George Clooney) travels a lot.  He flies all over the country telling people that they've been fired but it's going to be OK.  He rarely sees his sisters and has no wife, children, girlfriend or dog.  He is happy that way.  UNTIL ONE DAY HE IS NOT.
The movie opens with a series of quick cut close ups of Ryan preparing to go on the road.  His clothes are folded neatly and fit perfectly in his carryon, then he whisks his way through check in and security.  Get it?  He travels a lot so he's good at it.  The problem is, the contents of the sequence betray Ryan's precision and his antiseptic life, free from messy connections.  But the style does not.  The shots are oddly framed and sloppily edited.  Far from precise and clean, they are confusingly messy verging on amateurish.  Unfortunately, this is just the beginning of the problems with Up in the Air.
The film continues to follow Ryan on the road, through his encounters with Alex (Vera Farmiga), a lovely female road warrior with whom he begins a torrid romance, his training of Natalie (Anna Kendrick, who went from high school senior in New Moon to college graduate in a matter of a month), the seemingly heartless ingénue whose idea of romance involves finding someone that fits all the boxes on her checklist and his trip to his sister's wedding where he is forced to reexamine his life philosophy: make no connections and you can achieve your goals free of baggage.  Except for maybe a carry-on.
No, the story certainly doesn't break any new ground, but the way in which it doesn't is so completely disappointing and frustrating.  There are elements of the story that, while not brilliant, are easy setups.  Easy like kicking over bowling pins.  But then, a few scenes later, when you're looking for the payoff, it isn't where you thought it would be, or worse yet, it isn't there at all.  Why waste time and energy making a scenario that begs for resolution and then leave that part out?
Worse yet is the "twist" in Ryan and Alex's relationship.  It's surprising, but not in a way that you can go back and rewatch it into making sense.  No, it just makes no sense at all.  It serves the purpose of making Ryan sad, but it does not at all jive with the rest of the story.  It was so bad it made me use the word "jive".

I wish I could say that I knew what Jason Reitman was going for in making this movie.  The undercurrent of Ryan's job – the message that even if you lose your job, you're going to be ok – is one that sort of makes sense.  It's a nice uplifting message, I guess.  But I can think of about a billion ways that such a message could have been conveyed in a more coherent and dare I say entertaining way.  I could even see Ryan Bingham as a character as being quite compelling.  But I wasn't convinced the two stories fit together.  At all.
So, big deal, a movie was disappointing and shitty.  Oh well, happens all the time.  But what doesn't always happen is all the attention that has been heaped on it.  Even though it's not in wide release until Christmas, it has already won awards from the National Board of Review for Best Actor, Best Supporting Actress, Best Adapted Screenplay and Best Film.  WHAT.  WHAT.  BEST FILM?!  They know that Inglourious Basterds came out this year, right?  And Adventureland?  And  at least 5 other movies that don't completely suck though I can't think of them right now??
So, big deal, who cares about awards and Oscar buzz.  It's just a popularity contest with no real relation to what's good or not.  But the critics, they surely won't stand for this kind of suckage.  Right, Rotten Tomatoes?  Wait.  89%?? ARE YOU SERIOUS?!  A.O. Scott of the New York Times?  You think what?  That  "this is a classic in the making"?  Could I really be so far off base?  I don't understand.  I don't understand.  This movie was so so bad.  With characters who weren't whole, cinematography that was not good, a story that wasn't interesting or important.  Did I see the same movie?  Did I accidentally go see New Moon again?
I hate you and everything you stand for, Up in the Air.
On a less infuriated note, here are some things I found acceptable:
The Sam Elliott cameo towards the end.  That guy and his mustache can do no wrong.
Vera Farmiga's haircut.
Creating a new category for my blog called "suck"
This poster that I found online: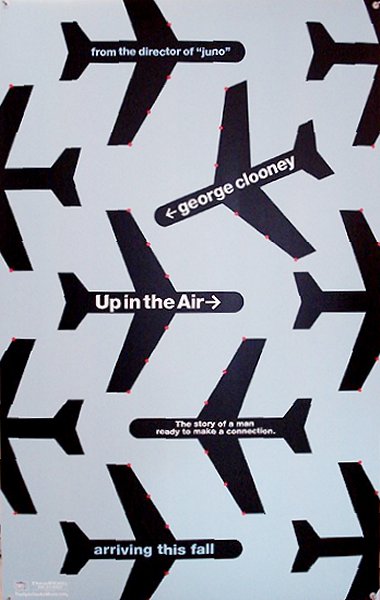 One Response to "Up in the Air"