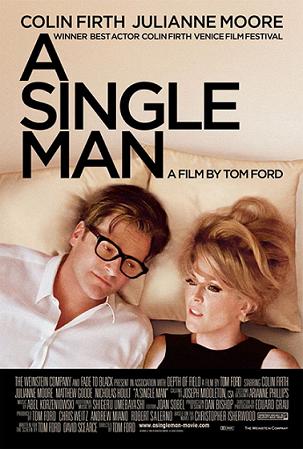 Some day I will stop getting excited about movies.  I will learn my lesson and go into even the most highly touted and slickly marketed film skeptical and broken.  Unfortunately this has not happened yet and in I went to see A Single Man expecting Tom Ford to translate his piercing stare and effortless style into something not just pretty but moving.
But of course.
He didn't.
Yes, this story (based on a presumably monstrously depressing novel of the same name by Christopher Isherwood) of a gay man in 1960s Los Angeles mourning his dead lover is — dramatic.  The idea of being forced to suffer in silence and secret because of prejudice is a depressing one.  But the subtlety of the subject matter — what is more subtle than the day to day process of grieving — is overwhelmed by droll, condescending voiceover, pointless quirks and dialogue and situations that are anything but subtle.
As the eponymous man, George, Colin Firth is sad eyed and straight faced.  More slender than normal he fills out his suits very nicely.  Julianne Moore, as his (pardon the expression) fag hag Charley is glamorously over the top with piled high hair and caked on mascara, but her truly dreadful British accent is too much to bear.  And the gorgeous gay men that not only fall all over themselves to get to George (yes, how depressing that must be for him) have not only the perfectly sculpted forms of actors, but the offputting feminine faces of model.
Finally, A Single Man falls into the trap that far too many modern period films and television shows (I'm looking at you, Mad Men) of giving  not just a nod to their contemporary era.  An oversized movie poster advertise, not something obscure or artsy but Psycho.  A newscast on the radio isn't talking about the local school board or traffic conditions, it's talking about the Cuban Missle Crisis.  Particularly in this film, the style is of the decade is so pervasive and well-done that there is no reason for these insulting shout-outs.
I didn't enjoy this movie.  It is nice to look out, well-framed and just attractive.  I wouldn't mind having it play on mute while I sipped Pinot Grigio on a third date.  But it's not moving.  It's not a good story.  It's not even satisfyingly depressing.  It's just kind of…suck.