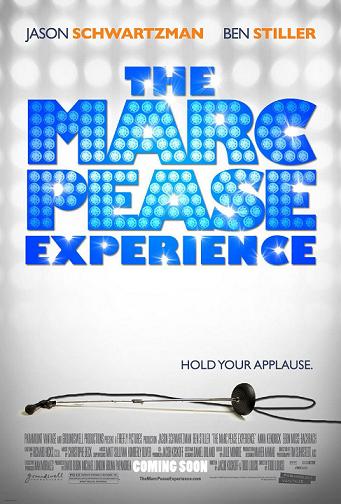 So my "blog every movie" experiment has so far encouraged me to…not watch movies.  But!  Last night I finally did.  I ventured to the "far" redbox at the Jons (with a J), which has a much better selection than the "near" redbox at Vons (with a V) because the clientele at Jons has tastes that run counter to mine while the clientele at Vons all have the same haircut as me and therefore watch the same movies.  Except for that one guy who actually made me cry when I was just trying to return my movie, but that is a separate story.
From the redbox, we rented never-released-to-theaters, Ben Stiller starring The Marc Pease Experience.  Those two descriptors together are less that encouraging, but despite my pulling for Animal Planet: Puppy Party, we rented it anyway.  Directed by Todd Louiso (Love Liza) and co-starring Jason Schwartzman and Anna "Up in the Fucking Air" Kendrick, this little indie-ish high school theater comedy was a steaming pile of WTF.  Schwartzman is the eponymous character who still maintains his high school a cappella group, with whom he dreams of making a demo, lives in his dead grandmother's condo, and is still traumatized by a failed performance of The Wiz from 8 years earlier.  He is dating Meg (Kendrick) who is a senior at his alma mater (though they make sure to mention she is 18).  His hero is the music teacher, Jon Gribble (Stiller), who promised to produce his a cappella album — but that was when he was in high school and he actually is just a smarmy loser asshole.  Also, he is fucking Meg which is completely gross and entirely disturbing.
I can sum up my feelings about The Marc Pease Experience is one simple phrase: I don't get it.  It seems like it wants to be a parody of high school drama and music (I think this is what Glee is?) but Stiller's character isn't over the top.  He's actually under the top.  That is, I think we've all encountered high school drama teachers (or whatever kind of teacher, like my world history teach who would absolutely FLIP if you called him "Mister" instead of "Doctor."  I kind of had the hots for him, but again, another issue) who take themselves wayyy too seriously and completely get off on the fact that a bunch of high school kids think they are awesome because other adults realize what complete losers they are.  That idea is a little bit funny and is played to maximum ridonkulousness (with mixed results) in Hamlet 2, but here, Stiller is so subdued that it's not funny, it's just uncomfortable and a little bit sad.
There are a lot of things going on in Schwatzman's character too with his delusional ideals about his a cappella group, the fact that he's dating a high schooler (who is kind of a bitch to him) and has no family and is pathetic and sad but it's all over the place.  Is it funny?  Is it sad?  Who the fuck is this guy?  And why is the movie named after him?  Huh??
Finally there is Meg about whom we know even less apart from the fact that she likes to sing and fuck older guys (change "sing" to "drink" and that's a pretty apt description of…nevermind).  The fact that she's dating Marc is one thing, he's obviously sweet if lame.  The fact that she's fucking her music teacher – and clearly isn't all that into it – is so weird and gross.  But those feelings are never validated by anything that happens in the movie.  Gribble doesn't get any comeuppance and Meg doesn't have any epiphanies about self-esteem or fall in love with some cute high school boy.  It's disturbing.  I was genuinely disturbed and grossed out.
The direction and editing are also completely confusing.  You'll just be going along, all normal movie like, and then there will be an extreme close up of Marc Pease buttering his toast for 25 seconds.  I wish I were exaggerating.  I don't…I just…WTF?  There is no reason for this shot to exist.  The toast doesn't come back to play an important part in the story.  I do not understand.  Come to think of it, there is no reason for this movie to exist.