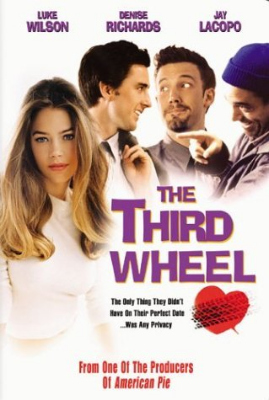 I'm a busy lady.  If Super Bowl commercials are to be believed, I'm busy doing things like using my sex appeal to trap innocent horny men into unhappy relationships, but actually I just like to drink a lot and that takes up precious time — pre-partying, actual drinking, post-drinking carb binge — I just don't always have the hours I need to devote to watching movies.   This is where our friend "Fast Forward" comes in.  I managed to watch all three of these movies in maybe 3 hours by skipping the bad/boring/lame parts.  Which were most of the parts.
The Third Wheel: Luke Wilson is a bumbling cubicle slave who is determined to go on a date with the sexy and successful Denise Richards.  Everyone in his office, including Ben Affleck (who is at his douche with a goatee best) is pulling for him and even have a party where they place bets on, like, whether or not he will get laid or something like that.  But then, on their date, Luke Wilson hits this crazy homeless guy (played by the movie's screenwriter, Jay Lacopo) with his car.  This is where we started to fast forward.  The guy is fine, but wants money for his crystal animals that were broken in the accident, so he gets in the car with them.  As far as I could tell, the guy keeps showing up wherever they are on their date and putting salt in the Luke Wilson's already meager game.  Then Matt Damon makes a cameo as Denise Richards' ex-boyfriend.  I watched this part on regular speed.  I love me some Good Will Hunting-era Damon.  Then I guess they probably fall in love or something and there is a quirky break dance scene while the credits roll.
I don't like Denise Richards, but I can tolerate her.  She has a weird robot face and I find her to be a bad actress.  Young Luke Wilson I can more than tolerate.  He is gorgeous.  Superdouche Ben Affleck I LOVE.  Jay Lacopo, who you have never heard of and went ahead and wrote a huge part for himself in his own movie, is INTOLERABLE.  I literally could not even stand to look at his face.  Is he supposed to be crazy?  Retarded?  Homeless?  I don't even know.  He's just wearing some stupid beanie with a perpetually confused look on his face and you just know he was so fucking satisfied with himself.  HATE YOU.  FAST FORWARD.
The Breed: A group of sexy friends, played by actors who are a good decade older than their characters are supposed to be, find themselves in a remote cabin being attacked by rabid(?) dogs all while two of them are brothers who have both fucked Michelle Rodriguez.  Questions this raises:
1. Are the dogs rabid?  Did we fast forward through that part?  Because without a good reason presented, I really don't want to watch dogs get hit with baseball bats.
2. Did this blonde suck someone off to get this part?  She's some utterly noncute version of Amy Pohler and did not want to look at her face.
3. How much does it suck to be Kate Hudson's unfamous brother who looks vaguely like Steven Weber?
4. Is Michelle Rodriguez sexy?  I'm kind of scared of her.
Henry Poole Is Here: Luke Wilson, 10 years later!  I was on board with this one from the beginning.  Luke's aged a little, but isn't Verizon Commercial Fat yet.  He  buys a house and intends to drink himself to death.  I can get behind this idea.  But then his weird neighbor decides she can see Jesus in the stucco of his house and he goes on a walk with her other neighbor Radha Mitchell (whose daughter who has that weird movie quirk where she doesn't talk until, like whatever yawn) and then I guess it was like, he has cancer (OR LUKEMIA, the prospect of which I could not stop giggling about) and thinks he's going to die but I think maybe the Jesus water stain saves him or maybe he just stops drinking I really don't know PEACE OUT.