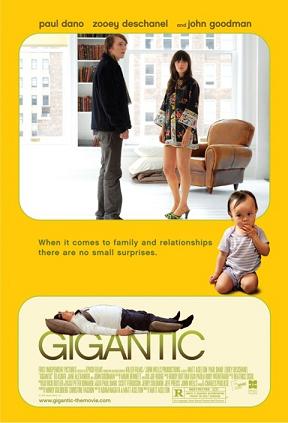 The redbox at Jon's strikes again.  I think the mailman is stealing my Netflix because they are getting to me way slower than they used to.  I mean, I really don't think the mailman would even want my documentary about African schools, but whatever.  So instead I watched Gigantic, starring indie sweethearts Paul Dano and Zooey Deschanel.  I'll pause for a moment while your eyes wander off the screen and you find yourself thinking about her huge blue eyes peering up at you through her lustrous bangs and lighting up when you tell her how much you loved the bootleg She & Him record that you got from your best friend Lauren who probably has a big crush on you and is actually really cool and totally cute but you don't even recognize it because  anything that isn't in the direct halo surrounding Zooey's eyes you can't even see cause it gets all blurry even though she's not actually that cool, her acting is kind of so-so and someone else picks out all of her outfits.
Um, yeah.
So, Paul Dano works at a mattress store and he really wants to adopt a Chinese baby even though he's not married and doesn't even have a girlfriend or a very good job.  He has this friend who works in a lab with mice and a coworker who is played by the guy that plays Lester on The Wire.  Then one day John Goodman comes in to the store wearing a scarf and buys this retarded expensive mattress ($14,000) and says "Oh ho ho my daughter will be back later to pay for it."  Naturally, his daughter is Zooey Deschanel (don't worry, her character name is "Happy" in case none of this was sounding quirky indie enough).  Zooey and Paul make friends and then hookup and Paul is all "I like this girl" to his friend in the lab and Zooey is all "I'm not wearing pants" and isn't this so precious.  At one point Paul goes home to visit his dad (Ed Asner) and they do mushrooms in the woods. Oh, I FORGOT, Zach Galifinakis is trying to kill Paul Dano.  Anyway, then he (Paul) finds out that he's finally on the real list to go to China and get the baby!  Then he tells Zooey and she pukes!  But we don't know if it's cause of the baby or cause of the goat meat stew that Lester fed her!
Then we find out Zooey is actually pregnant because of the time that they had unprotected sex (WTF) in the back of her dad's station wagon (WTF) in a parking garage (ok, that's hot).  But before that, she had stopped calling Paul because she doesn't want to be a mom to a Chinese baby, so instead she went back to dating the sugar daddy she had before and decides to move to France to go to cooking school.  When Paul finds out he is devastated.  But then, get this, Zooey decides to get an abortion because her sugar daddy boyfriend doesn't want to deal with a baby and her dad isn't going to give her any more money because he hates the new boyfriend.  But just as she's calling the clinic, Paul is calling on the other line and she realizes that she DOES want to have his baby.  So Paul takes his name off the adoption list, Zach Galifinakis murders the sugar daddy boyfriend and when the baby finally comes out it actually looks Chinese!  Happily Ever After.
*Please note, I fell asleep after the part when Zooey pukes, so I may have, um, made up some of the rest of the story.   Apologies.
Hey but have you heard Gigantic by the Pixies? Cause that song is great.
One Response to "Gigantic"