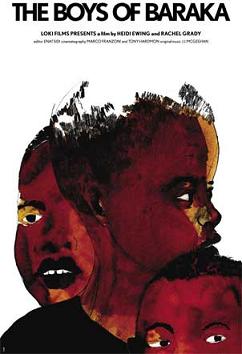 Almost immediately upon putting it in my laptop (what, I was sleepy) it because obvious how The Boys of Baraka came to be in my Netflix queue.  It's about at-risk youth in inner city….BALTIMORE!  Yeah!  It's like season 4 of The Wire in real life!
Only, not really.
The Boys of Baraka is actually a documentary about a group of troubled young men growing up in Baltimore, in single parent (or no parent) homes who are chose to spend two years at a boarding school in rural Kenya called the Baraka school.  The film starts off by alerting you to a troubling statistic: that 76% of African American boys in Baltimore will not graduate from high school.  That is truly a travesty and a number that was really shocking to me.  It continues to follow 4 or 5 boys who apply (I guess — this part isn't shown) to go to the Baraka school in Kenya.  They are all promising in some way: charming, precocious, creative but are being mishandled or simply not handled (read: suspended and ignored) by the Baltimore school system (but if you've see The Wire then you KNOW that they're TRYING THEIR BEST) so off they go, probably many on their first trip out of the city to say nothing of their first time on an airplane  (oh, a little bit of backstory here might have been nice).  Some say tearful goodbyes to their mothers but some simply continue to cause mischief and create concern for fellow air travelers.  To be fair, the flight(s) to Kenya is a long one and I don't know that twenty 11-14 year old boys from any kind of background is exactly what I would want on my plane either.
Once in Kenya, some of the boys are thrilled (their cabin accommodations are in many respects superior to their housing situations in Baltimore) but do need some time to adjust,  a few of them demanding to go home and one in particular (Montrey) continuing to start fights and cause trouble.  But after a few talking tos and heart to hearts with the (white) staff, they seem to get stuff figured out and by the end of the year, it seems like they're all having a great time.  As a matter of fact, it gets kind of sad when they have to go back to Baltimore for the summer.  They all seem uncomfortable there, around their mothers and their old friends and ready to go back.
But then tragedy strikes and their parents are informed that the operations of the Baraka school have been suspended due to terrorism and security risks inherent in travel to East Africa.  Of course, the parents proceed to get indignant because WHAT are they supposed to do NOW!!  The response of the Baraka administrator is not even captured, but my response was "Are you kidding?"  True: It is totally sad that the boys won't get to finish their second year in Kenya.  Also True: Going to Kenya and having a private education is not exactly a right that these kids have.  So sure, be upset and sad, but get angry with the Baraka school for something that is totally out of their control?  Um, really?
So the boys don't get to go back but Montrey ends up at the best school in Baltimore anyway because he apparently is really good at math (surprise!  thanks for using this as some kind of, I dunno, through line, plot point, touchstone).
Mostly, the idea of the Baraka school is an interesting one.  It's too bad it got shutdown (apparently for good).  But this documentary was not a particularly compelling portrait of either the school, Baltimore or the eponymous boys.  The filmmakers even seem to know this as they put the boys names up on the screen with them all the way through.  Perhaps if they had created any kind of fleshed out portrait of them we would be able to at least recognize and distinguish between them.  Which one has a dad in jail?  Which one has a mom with a crack problem? Oh, that's the same one.  I think he has the learning disability too (BARELY ADDRESSED).  The one who wants to be a preacher is cute — what's wrong with him again?  Does he become a preacher?  Wholly disappointing portrait of a provocative topic.
In happier news, Season 5 starts tonight (in my apartment)!!
One Response to "The Boys of Baraka"